TGIF: My Current Obsessions
It's been two weeks and I have some new stuff to put you all on to! I just finished Gucci Mane's autobiography so no book this week. But leave a comment with recommendations! But here's what I'm raving over this week:
Big Mouth
This show is not part of your kids Saturday morning cartoon block. A little over a month ago I peeped some selective outrage on Twitter about a new show coming to Netflix with a teenage girl talking to her vagina. A lot right? I paid it no mind until the show, titled Big Mouth, made its way on Netflix's new releases. Curiosity took over once I saw the comedic all-star lineup of Nick Kroll, John Mulaney, Fred Armisen, Jordan Peele, Maya Rudolph I couldn't not watch the first episode. After that I was hooked until the end and I watched the entire season a second time. We follow the main character Nick, his best friend Andrew and their friends through the most embarrassing time in a teenager's life: puberty. Big Mouth combines the stress of growing up with crude humor and it works so well you question your own morals and values. While the kiddies are the main focus, the Hormone Monster (Kroll) and Monstress (Rudolph) drive the show with their overt sexual advice and reactions that while shocking, it's all quite accurate. Prepare for slide splitting laughs and embarrassing flashbacks to your own adolescent days. Big Mouth is available exclusively on Netflix.
 BbyMutha
I discovered this gem on Soundcloud and been a fan since. BbyMutha hails from Chattanooga, Tennessee and let me tell you…sis be spittin. She is sex positive, honest whether it makes you comfortable or not, and she's a mother. BbyMutha crushes the stigma of mothers owning their sexuality because that's how they became mothers in the first place! Duh! She takes no shit and even her beat choice let's you know that. Mama can easily stand her own against the big boys and I love that. Her most recent buzz comes from the release of the video for "Rules". The gritty beat is married to her raw lyrics and possibly the best line I've ever heard in a song: "You can't give your p*ssy to a n*gga who not used to getting p*ssy, cuz that p*ssy gon' be everybody business." The EP is accompanied by Plug and another one of my faves "Roses" (this song is my alarm so I literally wake up to it daily). I'll be seeing her live in DC on December 8th at the Songbyrd Music House and I am so freaking excited! You can find BbyMutha on Twitter, her music is available on Soundcloud, Spotify and her official website.
Mean Girls Brush Kit by Spectrum Collections
The team at MEFeater posted about the release of Spectrum Collections x Mean Girls Brush Kit back in July and it was too fetch for me not to have it. The super grool 10-piece purple and pink set comes in a Burn Book case! The brushes have their numbered labels per usual but they are also each named by the best lines from the movie including:
 And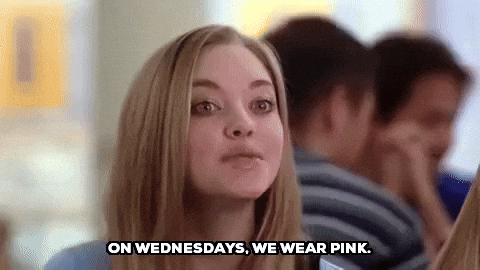 These brushes are SUPER soft so if you're looking to go heavy on the eye shadow I'd go with a brush with harder bristles. But they do wonders with foundation and highlight powder. This set is a great stocking stuffer for the Queen Bee in your life.
Have you watched, listened or tried any of my obsessions? Let me know what you think in the comments! And don't forget those book recommendations!
Please reload